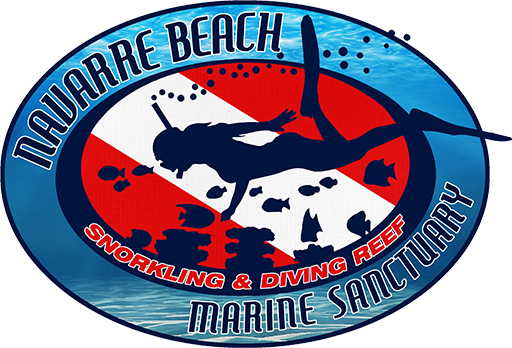 Artificial Reef Snorkeling & Shore Diving
Navarre Beach, Florida
Discover
Navarre beach marine sanctuary
This project created near shore artificial reefs in Santa Rosa Sound and the Gulf of Mexico off Navarre Beach. Our volunteers continue to inform the public about the economic, environmental, and educational benefits of reef programs and making Navarre Snorkelicious. Near-shore reefs allow people of all skill levels to easily view marine life and ecosystems inhabiting the reefs by traveling only a few hundred feet off-shore. These reef sites offer an easy and inexpensive option to increase your snorkeling and diving abilities or check out a new piece of equipment.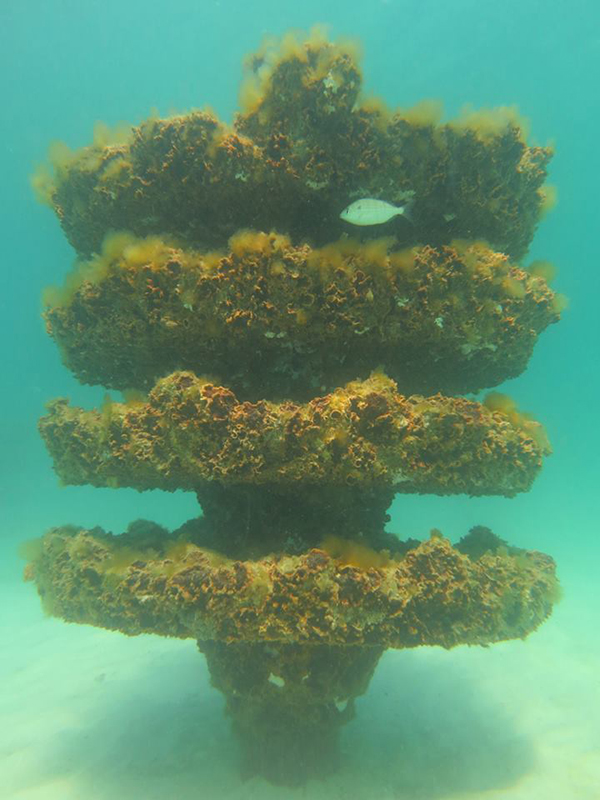 The reefs consist of multiple piling-mounted Eco Systems made in Gulf Shores, AL. Materials are thin concrete discs covered in Florida limestone rock and mounted on environmentally friendly composite pilings which are driven into the seabed. Three to four discs each 5ft in diameter are mounted on each piling and the individual
reef structures are placed 10 – 20 ft apart.
All snorkel reef sites are located in Santa Rosa County Navarre Beach Marine Park and open to the public free of charge sunrise to sunset.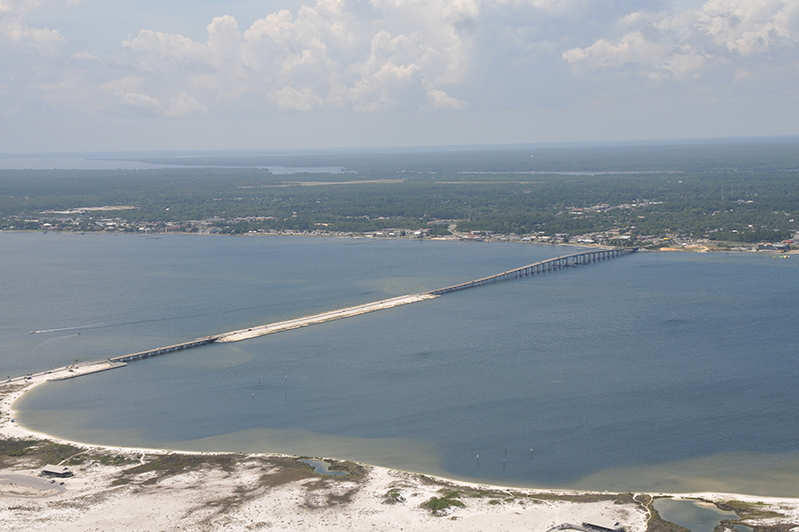 The east sound side reef is the smallest of the three sites located north-west of Sandpiper pavilion.
This site is the most accessible of the three sites and is identified on all four corners with pilings marked with ""SNORKELING REEF" "NO MOTORIZED VESSELS".
The site is about 150ft from shore and consists of 28 structures spaced 10ft apart in 12ft of water with the tops at 7ft below the surface.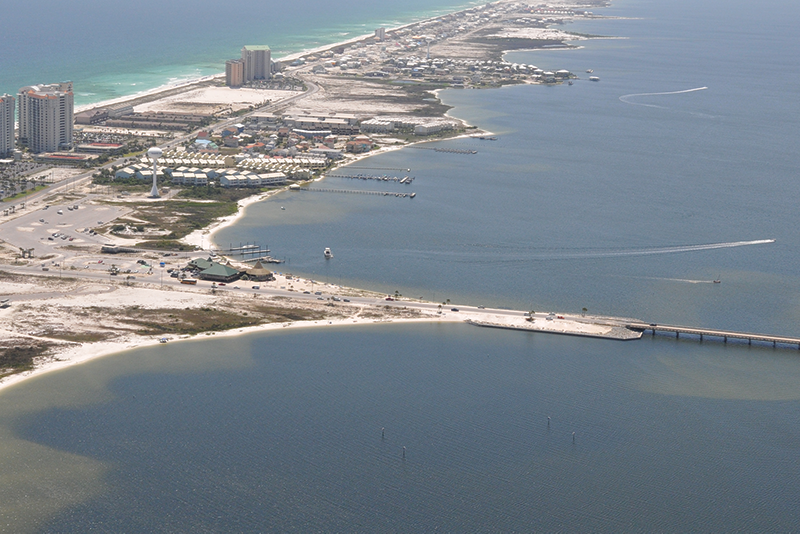 The west sound side site is the largest of the three sites with a footprint approximately equal to a football field. To get to this reef, take the first left after entering the park. It is located directly north of Red Drum pavilion and the Navarre Beach Science Station. The site can be seen from the beach.
This site is more conducive for diving than for snorkeling and is identified on all four corners by pilings and marked with "SNORKELING REEF" "NO MOTORIZED VESSELS".
At 700ft from shore this site consists of 77 structures spaced 10ft apart in 20ft of water with the tops of each structure at 14ft below the
surface.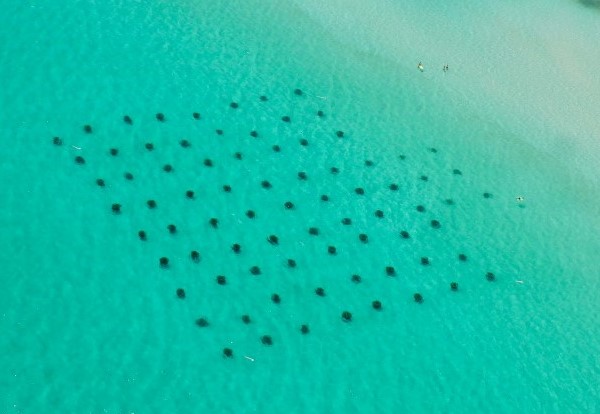 The Gulf site is located directly south of the Sea Oat pavilion. This is the furthest southeast parking area of the park.
Follow the boardwalk to the beach and immediately head east approximately 100ft.
 The Gulf Reef has 78 structures and is marked  (on shore only) by four large PVC posts positioned on the sand dune and is 340ft south of the mean tide line. It is immediately beyond the second sand bar.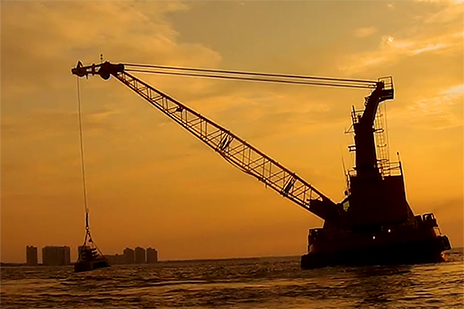 One Mile Out Reef
Reefs are located in artificial reef area SR-27, located approximately one mile off Navarre Beach
More than 500 modules create 27 individual reef sites, or patch reefs. Reef types include 15-foot-tall large tetrahedrons (also known as "super reefs"), 8-foot-tall tetrahedron pyramids and 6-foot-tall ledge and disk modules (also known as "grouper boxes"). $1.2 million project was the final phase of a major project funded with Natural Resource Damage Assessment (NRDA) Early Restoration funds from the 2010 Deepwater Horizon Oil Spill.
In January 2021 an additional 47 reef modules were deployed bringing the total number to 557 modules. This second phase was jointly paid for with remaining NRDA funds and a grant from the Navarre Chamber Foundation.
To help maintain the reefs, we are offering you the opportunity to adopt a tree or a single branch at the reef sites. Your tree/branch will quickly be bursting with life as marine organisms of all types take to living in and around it.
The Navarre Beach Marine Sanctuary (NBMS) and Artificial Reefs consists of 3 separate reef areas off the shores of Navarre Beach Marine Park. Two sites are in Santa Rosa Sound with 105 reef trees and one is in the Gulf of Mexico with 78 trees for a total of 183 individual reef trees placed at the 3 sites. Each tree consist of 3 or 4 branches (discs) to provide more reef surface area.
Navarre Beach Live HD 1080 Zoom Cam
The Navarre Beach, Florida Live HD 1080 Zoom Cam welcomes you to enjoy 12 unique and gorgeous views of streaming video that zoom in and out of the Gulf of Mexico along the Emerald Coast of Florida. The views start east towards the Navarre Beach Fishing Pier, the longest Pier on the Gulf of Mexico. The sequence of views continues west towards the Gulf Islands National Seashore and then repeats the tour. Checkout the daily gorgeous sunrises and sunsets.
Navarre Beach Reef
with a 45 minute Clear Bottom Kayak Tour of the Gulf Side Reef.
Includes Admission to Navarre Beach Sea Turtle Conservation Center 8740 Gulf Blvd, Navarre, Florida 32566.
Tours run from June through September. Follow our Facebook page to be kept up to date on tour availability